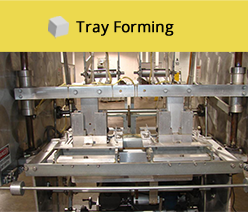 There are a lot of industries that can use tray formers to form, fill, and seal trays of products for distribution. Whether your operation is large or small, there are tray formers available to help you meet your product goals. Here's what you need to consider when choosing a tray former for your business.
Multiple Tray Uses
Consider what you will be using the trays for and how often you might need to change the trays for your other or future products. Choosing a tray former that can be easily reprogrammed to tool trays of varying types and sizes is important if you are producing more than one type of product.
Automation and Production Rate
The more automated your production and packaging process is, the more efficient and cost effective your operations will be. Choosing a tray former that is almost completely automated is important. If you have a larger scale production, you may also want a tray former that includes a tray sealer and conveyor belt, as well as a loading station for loading the trays before sealing. The average tray former will fill and seal about 25 to 30 trays per minute.
Sealing Type
Your needs for how your trays are sealed could vary depending on the type of product you are producing. Choosing a tray former that can handle both glue seal and heat seal is important. Make sure the tray former equipment that you choose will be able to meet and exceed your quality packaging standards.
Tray Material and Construction
Tray materials and construction can vary, and the types of trays you choose depend on several factors, including the type of product you are packaging. Will you be using cardboard or paperboard trays? Will your trays have a hinged lid or be sealed in another way? Make sure the tray former you choose has the options available to meet these needs.
Our tray formers are automatic and designed to meet the needs of most manufacturers. Contact us today for more information.