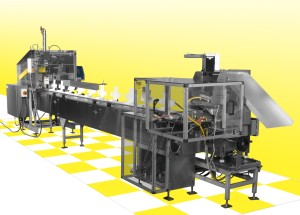 There are many industries that can benefit from automatic tray formers. Home goods, pharmaceuticals or supplements, and some foods can all be packaged using trays. Having an automatic tray former can cut down on packaging time, labor costs, and make your process more efficient. Here are the three tray formers we offer for your manufacturing needs.
Econoform and Econolock
Both of these automatic tray formers have similar specs and work in much the same way, with the difference being in the type of tray formed. These automatic tray formers can make 30 trays per minute. The Econoform machine will glue the corners, while the Econolock machine locks forms in place or folds them over. You can add a conveyor belt to the other side of the machine so that completed trays are conveyed to the next station for a carton or other distribution or shipping packaging.
T-System
This automatic tray former goes above and beyond the Econoform or Econolock models. The T-System will form up to 25 trays per minute, but it moves those trays along a conveyor belt that takes the tray to a straight line closer that forms the corner glue, corner lock, or simplex style locking trays with a hinged cover. These are then loaded and sealed. The entire process is very efficient, time saving, and cost effective.
If you have a business that needs trays loaded and sealed, an automatic tray former could save you a lot of money, time, and labor. Contact us today for more information or browse our site for additional specs and features.