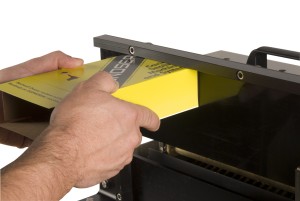 The Mini MonoSeal carton sealer is a great addition to small businesses that produce smaller amounts of product for shipment. There are a number of features and specifications to this cartoner that make it ideal for small businesses in particular.
Portable and Easily Stored
If you don't produce a lot of product every day, the Mini MonoSeal carton sealer is a great solution to preparing and sealing cartons because it is small and portable. You can set the sealer on any counter or table near an electrical outlet. When you are handling other aspects of your business, you can store the sealer in a closet or utility room until it is needed again. There is no complicated set up, so there is no need to leave the machine plugged in and ready to go at all times unless you have the volume to require it.
Easy to Operate
The Mini MonoSeal machine is extremely easy to operate. It is activated by a foot pedal, and cartons are easily sealed by simply pressing the end of the carton against the sealer. The general method of operation is to seal one end of the carton, fill it, then seal the other end. Because the process is only semi-automatic, how many cartons you can seal depends on the operator. The average cartons per minute is six to ten.
Handles Multiple Sizes
If you offer your product in different sizes, the Mini MonoSeal is a great option. It handles sizes from 1 inch square to 12 inches by 4 inches. This gives you amazing versatility in being able to offer different sizes of product to your customers with just one machine.
If you are interested in learning more about how the Mini MonoSeal carton sealer can help boost your business, contact us today for more information or pricing.