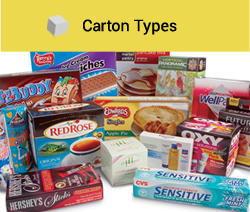 Have you recently looked at purchasing one of our cartoner machines for use on your production line? If so, one of the things you are evaluating is the right carton for use with both your product and the cartoner you feel is right for you. There are many considerations for deciding on a carton type, and you should look at each of these questions carefully.
How important is sustainability?
If sustainability and being eco-friendly is important to you and/or your customers, you need to choose a carton that can easily be recycled. Cardboard and paperboard, the two most common carton materials for our machines, are easily recycled, especially with our special hot air closure options. You can get cartons or trays in sustainable materials that still meet your needs to keep your product safe during transport.
What size do you need?
Not all of our cartoners can adapt to all carton sizes. When choosing both a machine and a carton, you need to think about what size you want your carton to be. This could be based on the size of the actual product, as well as how many items you want in one carton. When deciding this, consider how many units a consumer is likely to need or how many units a retailer is likely to shelve at one time.
What is your budget and production volume?
Do you have a large or small operation? If you aren't producing a lot of product, you probably don't need a big cartoner. At the same time, you need to make sure your cartons are big enough to hold an effective number of units. Balancing these along with your available budget for such equipment and supplies will give you the answers you need.
If after answering these questions you're still not sure what carton to choose, contact us today for assistance.